Below is an updated version of a rant I posted on my original Typepad blog 10 years ago. I loved that blog. Oh, for simpler times.
Sorry to be resurrecting these old posts but personal family issues are keeping my mind occupied and holding back original content creation. Not an excuse – just a reason.
Literally, nothing has changed in 10 years…. program design is still the most lacking element of almost every incentive and reward strategy. And the major reason people hate incentive programs. They haven't been part of a good one.
The post I wrote years ago was precipitated by a post on Freelancer.com and I was dumbstruck. Freelancer.com is a site where you can post a job and ask for bids on the job from freelancers (duh…) The request was from a company looking for help designing and launching a loyalty program for their distribution channel.
From their post on Freelancer.com:
I need someone to help design a loyalty and incentive program. The program is intended to support and drive sales within a complex telecoms distribution model/chain: to increase sales and improve the relationship we have with distributors, resellers, and agents selling airtime and prepaid sim cards. 
We are looking for a program design similar to the Boots or Tesco's point system i.e. the program sets to change behaviour and encourage collection of points which can be redeemed against a host of incentives and rewards. The scheme can be points based vai e card or coupon based. 
If you are interested, or you already have a on-line loyalty card system please send us a link of your work. 
Please apply only if you have knowledge and have done something similar before.
Interesting that they would go to Freelancer.com for that (instead of me) but here's the real killer in all this….
Their budget is $250 – $750.
Yup. Less than a grand.
Now read the description of what they want again. Complex distribution model/chain, program like Tesco (huge btw) – linked to fulfillment engine, and oh, yeah – ecard or coupon system too. Why not ask for cold fusion as well? Heck – they seem to have the budget right?
But the thing that got me laughing more than the paltry budget was the bids…
4 bids – Average value $588. (in today's money it would be $734.93 so even that is paltry)
I'm guessing they will get one hell of a program.
The Real Costs
Just to put this in perspective – if you really want a loyalty program, you're gonna need to spend a lot more than $588. You can't get great business cards for that – let alone great loyalty program design. Multiply that budget by 100 at least for the strategy – and 1,000 for implementation. Nothing good in this world is free or cheap.
I take that back – a lot of stuff is free or cheap… and it litters the business deadpools and consumer landfills.
I put this out there to solicit your input. "I" think this is a bad idea.
But there may be folks who think this makes all the sense in the world. What do you think? $588 for loyalty program design? $588 for your employee recognition program?  
Sure…
Lest you think I'm making this up – below is a screengrab of the request…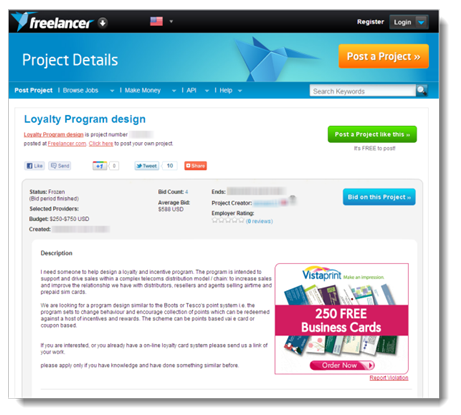 So I ask…
Does this make any sense? If you think it does. Comment. Let me know.
I really want to be sure I'm not overpricing my 30 years' experience designing and operating multi-million dollar incentive platforms for various clients. I'm guessing I'm much much more expensive than that.
And the reason is …. Wait for it… I'm worth it.
Reminds me of a joke I heard in a movie once:
Why are divorces so expensive?
Because they're worth it. 
Stay frosty. Don't be cheap. Call me. 
---
My advice is valuable sooner and later. But sooner is better.  Just click this link and we can talk through how to design the best incentive program with knowledge not ignorance.
---