Last Tuesday some friends of mine got around a virtual table and talked about the sins many incentive program designers make when they put together their programs. While the webinar we held only focused on the top 7 Sins – trust me – there are many many more – it did cover the biggies – as I think Tim said in the webinar these are the Cardinal Sins vs. the Venial ones…
We – Tim Houlihan, Kurt Nelson and myself riffed for about an hour about the sins we identified for our companion ebook by the same name.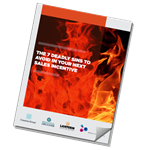 Feel free to touch here and download the ebook and listen to the webinar.
The ebook contains all 7 Sins but the webinar only focused on the top 3 chosen by audience poll (yes! it was interactive – we're so cool).
And tricky … you have dig into both to get the full sinful experience. But who ever turns that down!
I hope you enjoy it, and as always, respond to me if you have any questions. Or Kurt or Tim – their contact info is in the ebook and webinar.
Touch here for more information. I promise, it won't hurt.
---

---