As I got ready to upload this podcast I noticed just how long it has been since my last post. I am embarrassed! Chaulk it up to being busy – which also equates to better business. I can attest – there is an uptick in the economy.
And speaking of making money. Today's podcast is a special one. I got the chance to talk to Ray Zinn. The past CEO of a silicon valley company called Micrel. Ray is (was?) the longest-tenured CEO in Silicon Valley – 37 years! Not only did he defy the usual valley CEO turnstile – he never took VC money and except for one year was always in the black. THAT is really a different kinda tech CEO.
I spent about 20 minutes with Ray and some of his advice is timeless (and will work if you choose to take it!)
Click on the podcast below (email subscribers may need to click through to the site to see the embed) and listen to Ray talk about getting an education, living within your means, managing cash, listen to others, and never repeat the same mistake. Ray also talks about the advice he'd give people looking for jobs from his position as a hiring manager. One question he asks – "How did you like your last job." The answer is interesting.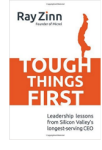 Hope you enjoy the discussion, and if you do… check out Ray's book and buy it!
[soundcloud url="https://api.soundcloud.com/tracks/273147933″ params="auto_play=false&hide_related=false&show_comments=true&show_user=true&show_reposts=false&visual=true" width="100%" height="550″ iframe="true" /]
---