"It was confusing. Crowded. Alien, yet familiar. I know I was here to document and observe but the indigenous HR people made it impossible to remain detached. I was a friend to all but yet had never been introduced to any.
What I had I gotten myself into?"
---
What you just read was the opening entry into a recently found journal buried deep in the remains of the old McCormick Center destroyed in the Clown Wars of 2112. Written by a little-known but highly respected "blogger" from 2018, the journal provides insights into the cult gathering of Human Resource-focused experts – or a " Complaint" – the ancient colloquialism for more than 3 HR people collected in a group. It was said they gathered annually in numbers exceeding 15,000 to review Human Resource policies and procedures and re-energize their commitment to helping people excel. And, after reviewing the journal; there also seems to be a predilection for experimentation with various psychotropic and depressive drugs such as beer, bourbon, absinthe and mezcal.
This journal is the only first-hand description of this gathering in existence and as such is priceless. We will be releasing excerpts as they are translated, over the course of the next few days to help spread the word of the SHRM organization and its mission.
The writer, Paul Hebert – Blogger, Solutions Architect, sometimes Brad Pitt impersonator, penned this journal while attending the 2018 SHRM conference in Chicago. His charge was to document the event, communicate the value of attending the gathering and of becoming a member of this secret group. For those who are interested, there is no secret handshake, but records do indicate that hugging was a common greeting formality for SHRM members.
What follows is a discussion of the notes in this newly found journal. Called the "Chronicles of Hebert", we hope bringing this information to the masses will help remove the stigma associated with HR people and encourage many more to either create or join a local SHRM chapter and get involved at the national level by attending an annual convention.
Submitted for your perusal…
---
The Chronicles of Hebert – Day 1 June 17, 2018 – Early Afternoon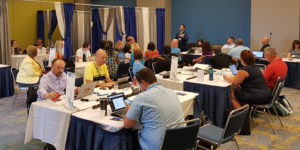 "I've grabbed a Diet Coke and my laptop and headed to the SHRM event at the McCormick Center. I am a blogger. I write and tweet. I try to be interesting and informative. I am 50% successful at both of those. My pedometer reads 1,032 steps and I'm sure by the end of the day it will be somewhere around 7,000. Yet I will still gain weight while here at the event.
I arrive at the blogger lounge – fully stocked with power strips and chocolate chip muffins. No number of steps can work those muffins off.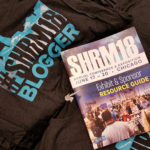 I sit down, connect the laptop to the conference-wide wifi and begin chronicling my time here in Chicago. The SHRM event covers a lot of ground – too much for me to rewrite. I'll link to the site where you can see the entirety of the event. It's vast. It's global. It's comprehensive. It's is a super-human effort and the SHRM staff that support this event should be recognized whenever possible. Without them this wouldn't happen. Mic. Drop.
The hallways of McCormick are already filling up – and it's Sunday. That's called dedication and that's call commitment. I am proud to be able to help document this effort.
I am a member of the blog squad.
The Chronicles of Hebert – Day 1 June 17, 2018 – Early Evening
"It's late afternoon on Sunday. Record temperatures cook the Chicago sidewalks and thoroughfares. It's Father's Day. The SHRM planners didn't care. The city is abuzz. Chicago is ready for the influx of 17,000 HR people. SHRM signs drape streetlights. Busses have colored "routing" signs in the windows. Random people on the streets have name badges dangling lazily from their necks. Even the locals know this is something special and begin to move slowly toward their homes. Whether the rumors are true or not, it is best practice to not be on the streets after 8:00 pm when the "re-acquainting" commences. It seems that most HR people work diligently for 364 days a year with little relief and little socialization with fellow practitioners outside the office. That is what makes the annual SHRM junket so dangerous for the locals caught between the high-pitch screaming and super-human hugging that occurs when two members of the SHRM collective meet up at a bar or pub. Trust me when I say – do not get between two HR people who haven't seen each other since the previous years' event. You WILL be assimilated – if not injured."
---
The journal entries immediately after this point become unreadable.
Our document forensics team believes the document was smeared with what they are calling "Diet Coke" and grease from a taco pastor from Mezcalina – a 21st century establishment that served food from the region currently known as MexiSessions but back at that time simply called Mexico.
There will be more to come tomorrow. Our translators are working hard to bring you this information as it becomes available. Remember – we're working with an over 100-year old document. It's hard work.