Our experts in document forensics have been able to put together additional entries from the journal. It has been a difficult process, so we'll be releasing them to you in small chunks as they are released to us. It is difficult due to the extreme age and the lexicon that was used in 2018. Many of the words have no analog today. What is an "instagram"? We don't know. Or a twitter? No clue. We do know that most communication in 2018 was on various "social networked" technologies that linked many people who didn't know each other in a way that made them feel like they really did know each other. Maybe the twitter and instagram references were to these technologies. It seems to make sense in context. Until we have validation we can only speculate.
We do know that the conference comprised sessions during the day where people stood in front of a group and spoke at the group. We believe that is what they call speakers or speaking. Not as efficient as the direct neural downloads of today but the best they could do in 2018.
To provide some context on the city of Chicago we were able to find pictures of the city skyline from that time. We've placed it below next to a current image of Chicago. A lot has changed since the Clown Wars of 2112.

Below are the most recently released Chronicles of Hebert.
---
The Chronicles of Hebert – Day 2 June 18, 2018 – Very Early Morning
"I'm tired.
Damn tired.
SHRM is not for the weak. My 40 days on Naked and Afraid XL was easier than this. There may be fewer lions at SHRM but the lack of sleep takes its toll.
I was lucky last night. The evening was uneventful. I woke up in my own room and I knew how I got here. Bonus.
I'm up early. Not as early as I wanted. The first session I wanted to see was at 7:00 am. The alarm screamed at 6:00 am. I screamed back. I won. The 7:00 am session lost. SHRM should reconsider 7:00 am sessions. It's punishing for the presenter who has to look at an empty room and it sets every attendee for failure because now they've missed their very first planned session. I am now a failure. 
I slept until 7:00 am.
Quick shower and then I grab the "J" bus to the convention hall. Everyone on the bus looks like a zombie. Staring at their phones. Some planning their day at the event – too many choices – too many good speakers – too many subjects. Choosing the right sessions is a daunting task.
Others, unfortunately, are trying to recreate their previous evening by scrolling through twitter and Instagram. Evidence of poor decisions, flaming drinks, too much deep-dish pizza and cheesecake slowly add detail to their blurry memories until they are in horrible HD focus. A few people gasp. A couple people are weeping silently. I don't know how they feel but I can imagine. They won't learn though. This same ritual will play out on all the busses, every morning through Wednesday. Rite of passage some say. I say cult initiation. Every time HR people form a "Complaint" the social pressure increases until someone yells "Whooo Hooo" while waving their hands over their heads and then it is all over. Shots for all!
I've seen it 100 times. It won't change. It's HR nature.
I smile knowingly and take my seat at the back of the bus.
At the hall…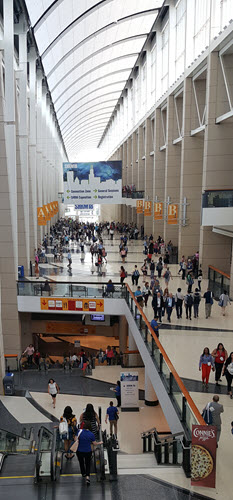 Steps. It's always about the damn steps. You can't have a conversation at #SHRM18 without someone asking for your step count. I've started lying… "28,034. Why?" People have stopped asking. Fitbits are the new Tamagotchi's. Just another thing to pay attention too.
I've put together my own agenda for the event. I'm looking for new and different. I'm finding a lot of old and similar. I'm not sure if that is wrong or not. Humans haven't changed much in 30,000 years so it makes sense there would a common thread of needs and wants for HR professionals. Yet we like new. We thrive on it. It makes us feel smart even when we're not.
I thought I'd jump in on Mark Fogel's talk on The Performance Review Dilemma. I liked that he's wasn't going to just parroting the line of "no more reviews" but looks like he's providing a discussion that real HR people can engage with and use in their day to day lives. I like Mark. I like sleep more. Sorry Mark.
At 10:45 am Tim Sacket will tell me "What My CEO Wishes HR and TA would Start Doing."
I think my CEO wishes I'd just quit putting whoopee cushions on her chair at the board meeting. I would. But it is so damn funny!
Tim's a hugger. That's a problem. I'll sneak into the back and hope for the best.
At 3:20 pm I'm heading to the smart stage where Joe Gerstandt will present "Conflict: Fight. More. Better."
HR Fight Club. I like. The judges approve. Just don't talk about it.
In between the sessions I'll be walking the Expo floor, once again, looking for new and validating old. It will be hard – too many exhibitors to see and connect with. A clone would be nice about now.
I'm tired.
Someone just asked me how many steps I've walked. 134,694 I answered. They sneered. I laughed.
---
The document has many more entries… some are video. We're working hard to decipher the codec and hope to bring you actual footage from 2018 at the SHRM conference. Please check back regularly as we update with new information.